Biography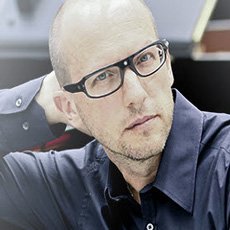 Originally from Rome, Faraò's musical sensibility together with a remarkable knack for melodic improvisation, have contributed to his reputation as one of Europe's most respected pianists. Faraò's style is unique: flawless technical proficiency, unbridled creativity and exhilarating vitality, and remarkable rhythmic skills.
The "Jazz four Roses Competition Price" was awarded to him at the Ciak Theatre in Milano in 1991. The most prestigious "Competition of jazz piano Martial Solal" a competition of the city Paris which takes place only every ten years invited a small number of top international piano talents. Antonio Faraò as one of those talents won that extraordinary competition in 1998. He recorded for the German label "Enja records" three tremendous albums: "Black Inside" (1998), "Thorn" (2001) with Jack DeJohnette on drums, Chris Potter on tenor sax and Drew Gress on bass. On 2002 the album "Next stories" went public. He recorded 4 albums with the label "Cam Record" included "Far out" in quartet with Bob Berg.
In 2010 he signed a first album with the French label Cristal Record "Domi"
registered with Darryl Hall and André Ceccarelli. Antonio Faraò has worked with a number of great jazz musicians including a recording at the famous Abbey Road Studios in London with André Ceccarelli and the London Symphony Orchestra for the soundtrack of the movie "Anthony Zimmer" with the French actress Sophie Marceau in January of 2005. He has performed and registered with the likes of Franco Ambrosetti, André Ceccarelli, Daniel Humair, Mike Clark, Gary Bartz, Lee Konitz, Steve Grossman, Christian Mc Bride, Chico Freeman, Miroslav Vitous, John Abercrombie, Richard Galliano, Toots Thielemans, Jack Dejohnette, Dave Liebman, Didier Lockwood, Benny Golson, Joe Lovano, Johnny Griffin, George Garzone, Cecil Mc Bee and with the famous Italian pop singer Mina.
His latest album Evan (Cristal Records/Jando Music) registered in NY with Joe Lovano, Ira Coleman and Jack Dejohnette features an extraordinary cast of musicians, that follows as a natural consequence of their affinity and numerous past collaborations and recordings.
On 30 April 2015, Antonio Faraò was invited to join the Unesco All Star Global concert in Paris to celebrate International Jazz Day together with Herbie Hancock, Wayne Shorter, Dee Dee Bridgewater, Marcus Miller, Al Jarreau and many more. His new album in quartet "Boundaries" will come out in the summer 2015 with Universal Verve Italy.
www.antoniofarao.net