Yamaha reveals first Slim Line AV Receiver: RX-S600 with 4K ultra-HD, Apple Airplay, network integration and exciting 5.1 surround sound
Yamaha reveals first Slim Line AV Receiver: RX-S600 with 4K ultra-HD, Apple Airplay, network integration and exciting 5.1 surround sound
Yamaha reveals first Slim Line AV Receiver: RX-S600 with 4K ultra-HD, Apple Airplay, network integration and exciting 5.1 surround sound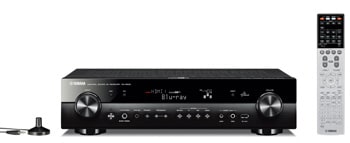 Rellingen, 30. August 2013 – Elegant and compact: Yamaha's first Slim Line AV-Receiver fits in every AV rack and complements modern furnishings as well as other home cinema components. With groundbreaking technology by Yamaha such as YPAO sound optimisation, the sophisticated sound field technology Cinema DSP 3D, SCENE functionality for quickly changing the playback mode and control via app for smartphones and tablet-PCs, the RX-S600 is the perfect AV receiver for discerning and design-conscious users.

Excellent surround sound thanks to YPAO and Cinema DSP 3D
Despite its compact dimensions, the RX-S600 offers excellent sound: The automatic sound optimisation YPAO calibrates the receiver in no time. Yamaha's sophisticated sound field technology Cinema DSP 3D with 16 programmes enhances music, movies and games; besides, it offers a more intense surround experience. The SCENE functionality starts the AV receiver in the right mode with corresponding DSP settings on the push of a single button. Via HDMI CEC, the receiver can be operated together with other devices by just one remote control.

Other innovative technologies by Yamaha such as Virtual Presence Speaker (3D sound without front presence speakers), Compressed Music Enhancer (improved sound for compressed audio files like MP3) and Silent Cinema (surround sound with conventional stereo headphones) offer a unique sound enjoyment in supreme quality.

Impressive images in 4K ultra-HD and 3D
Thanks to 4K ultra-HD passthrough, the RX-S600 can handle video with four times the resolution of Full HD. Because of this, the AV receiver is already prepared for a new generation of ultra-HD TV sets. It is also compatible with 3D video to offer movies in three dimensions. In addition, it supports Deep Colour with 30/36 bit and a frequency of 24 Hz like the one that is used in cinemas.

With MHL, video and audio in HD quality can be played back from compatible mobile devices. This way even your smartphone can provide you with an excellent, high-resolution entertainment experience.

Integrated network functionalities for best connectivity
With its extensive network functionality, the RX-S600 becomes the heart of the modern living room. Apple AirPlay allows wireless music streaming from Mac, PC, iPod, iPhone and iPad via iTunes. Alternatively, wireless playback is also possible with Yamaha Music Play over the network. Thanks to DLNA, the AV receiver is connected to the network in no time and can play music from PC or NAS, for example. vTuner offers the reception of thousands of web stations via Internet radio.

To offer exciting home cinema entertainment with surround sound, the RX-S600 supports all renowned audio formats such as Dolby True HD and DTS-HD Master Audio. In addition, the AV receiver plays back high-resolution formats such as 192 kHz / 24 bit FLAC and WAV from USB Media or via network.

Convenient control via app for smartphones and tablet-PCs
The free AV Controller App for iOS and Android offers easy control of the RX-S600: It allows the operation via smartphones and tablet-PCs as an alternative to the included infrared remote control.

RX-S600D: Model with DAB+ tuner for digital radio reception
In addition to the RX-S600, Yamaha also offers the model RX-S600D. It features an additional integrated DAB+ tuner that allows the reception of digital radio in supreme quality.

Experience YAMAHA at IFA 2013 – live in Berlin or online
Visit Yamaha at IFA 2013! Experience the new products in Berlin from September 6 to 11. You will find Yamaha in hall 1.2, booth 101.

For those who cannot make it to IFA this year, YAMAHA has created an IFA Special Page (http://europe.yamaha.com/en/about_yamaha/ifa/) online. Alongside presentations of all the new products, you will find videos, interviews and interactive panoramas of our booth on this special website. Fans of social networks can use our Yamaha@IFA profile page on Facebook to discover more information, backstage impressions, pictures and much more at http://www.facebook.com/yamaha.ifa.


Yamaha reveals first Slim Line AV Receiver: RX-S600 with 4K ultra-HD, Apple Airplay, network integration and exciting 5.1 surround sound