Yamaha introduces MusicCast!
Yamaha introduces MusicCast!
MusicCast unites all music admirers.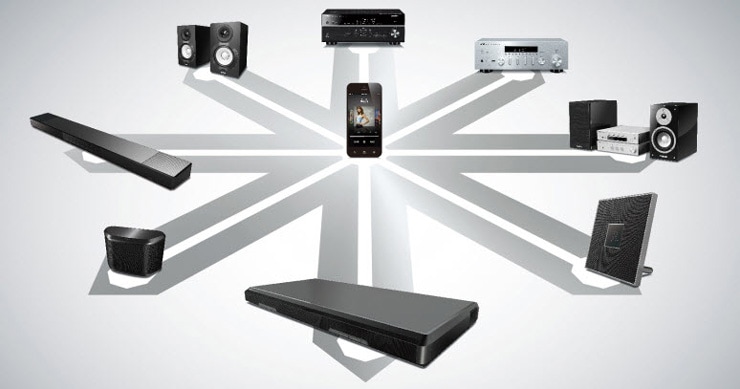 Rellingen, 20. August 2015 – Whether it is hifi fans, home cinema enthusiasts or multi room newbies – MusicCast unites all music admirers. 12 years after the introduction of the first MusicCast system, Yamaha revolutionizes the network audio section yet again: A system based on intense customer surveys, meticulous development and Yamaha's unique standards of quality, which have been the most important footings of Yamahas product design ever since its foundation 125 years ago.
Highest demands regarding music transmission quality The demand for uncompressed audio-formats indicates a growing desire for musical sound. Back in 2003, Yamaha introduced MusicCast, its first multi-room system, making Yamaha the first manufacturer worldwide that was able to stream music uncompressed in CD quality. In addition to the audiophile music enjoyment, the focus of MusicCast was on interference- and latency-free transmission to every room. In 2015, MusicCast will continue this excellent tradition and elevate these virtues to a whole new level: High fidelity music playback in the whole house, stunningly reproducing the interaction between the artist and his instrument. On top of that the focus is on latency-free playback, which will let you savour your favourite music everywhere in the house - just like in a concert hall.
Multi room with AirPlay, Bluetooth, Spotify, Network, audio CD...
Hifi has reinvented itself: Whether it is via Apple AirPlay, via streaming-services like Spotify, via your local home-network, via Bluetooth-streaming from your smartphone, via (web) radio or via audio CD – nowadays you play your favourite music from a variety of sources. As first multi-room system ever, Yamahas MusicCast provides you with the opportunity to make every component the main audio source in your home: Whether it is your CD player, which is connected to your MusicCast stereo network receiver R-N602, or the sound of your TV via your MusicCast soundbar YSP-1600 – all external sources can be listened to in every room. To ensure this, MusicCast features network based resources like Apple AirPlay, Bluetooth streaming, streaming services such as Spotify, JUKE or Napster as well as all audio files from your home network.
MusicCast in soundbars, stereo-components, AV receivers...
All home entertainment is becoming one: The main hifi or home cinema system in the living room will be complemented by numerous audio systems around the house. Yamaha is on the forefront of this development, not only by creating a MusicCast product portfolio, but by integrating multi-room technology into its DNA. Right from the start, 23 products will support MusicCast. Some are classic hifi components such as the stereo networkreceiver R-N602 or the new AV receivers of the RX-V79 series as well as the AVENTAGE RXA50 series. Soundbars like the YSP-1600 or the unique Dolby Atmos Digital Sound Projector YSP-5600 are also part of MusicCast. In addition, Yamaha will introduce a number of compact network-speakers as well as a pair of active hifi speakers, which are perfect for multi-room use in the kitchen, the bathroom, the bedroom or in your study for example.
The easiest multi room system to expand. Whether you just want to have two components play in harmony or whether it has to be the whole house: MusicCast will grow with its tasks and is always easy to expand. If a new Yamaha audio system is purchased, it will automatically become a part of MusicCast and can play on its own as well as in unison with other AV components. MusicCast may use an already existing home network or establishes an independent network of its own. As the name Wireless Music System suggests, the individual components can be connected wireless to each other; but most products do also have the traditional wire-based LAN connection.
Integration of Bluetooth speakers. Many households already own a number of Bluetooth sound systems, for instance the Yamaha Relit or Restio series. With MusicCast even those active speaker systems can be included into the multi room system. To ensure that, all MusicCast components come with a Bluetooth transmitter and receiver, which switch modes according to usage. This way the Bluetooth-module may not only be used to stream music from your smartphone and tablet-PC, but also for embedding a Bluetooth-speaker into the MusicCast audio network.
Intuitive management via smartphone and tablet-PC
Smartphone and tablet-PC have become the universal-remotes of the digital world. That is why MusicCast relies on an intuitive app for operation and music streaming. All rooms and components are clearly arranged on the start screen. Any audio source (like Spotify or the sound of your TV) can be selected and listened to in every room of your house in the blink of an eye. The Yamaha MusicCast app is available for Apple iOS (iPhone, iPod Touch and iPad) as well as Android smartphones and tablets. Excellent multi-room entertainment in chime with nature For decades, Yamaha has been campaigning for a product design in chime with the resources of our planet Earth. Which is why the traditional-rich company relies on high quality and durable components for its AV products, thus ensuring long-lasting joy. Furthermore, energy efficiency is important to Yamaha: With its ECOmode, the company has proved that saving electricity and the enjoyment of music can be in tune with each other. Following this tradition Yamaha has developed particularly energy efficient MusicCast circuits, which automatically adjust the power consumption and are able to reduce the standby consumption by 50 percent - compared to other multi room systems for example.
Yamaha MusicCast will have its international debut at IFA 2015 (Messe Berlin, 4. - 9. September). The first AV components equipped with the Wireless Music System will be available in shops in September 2015. You can find detailed information concerning the different products with MusicCast on our Special Site.
Yamaha introduces MusicCast!