Proč řešení Yamaha ADECIA dokáže vyřešit výzvy, s nimiž se potýkají IT pracovníci při integraci audio systému do komunikačního systému organizace.
Why Yamaha ADECIA solution can solve the challenges IT decision-makers face when integrating audio systems into an organization's communications environment.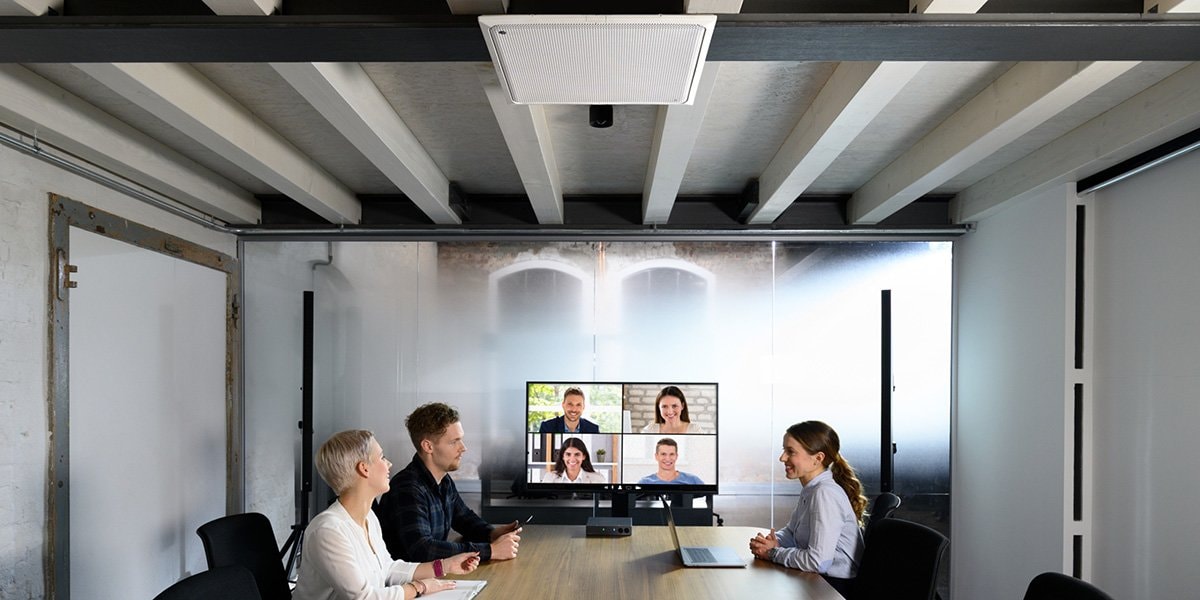 Independent analyst's positive assessment of the Yamaha ADECIA solution, a complete and intelligent microphone and line array speaker system designed to remove all barriers for equipping conference rooms and classrooms with professional audio quality.
The analyst firm, Wainhouse Research LLC in USA, evaluated ADECIA's hardware, installation and configuration process, audio quality, and end-user features.
The report concluded ADECIA was a "refreshing answer" to creating consistent, high-quality meeting experiences while reducing the learning curve and simplifying system installation, configuration, and management for IT decision-makers.
Highlights of the review of ADECIA, done by Daniel C. Root, senior analyst at Wainhouse, includes:
"The ADECIA product family addresses pain points of installed audio by streamlining installation and configuration at a time when human capital is in short supply across North America and Europe, reducing both costs and lead times for installation."
"Well-designed hardware aside, the core of ADECIA's value is found in the software that configures and manages the system."
"From the unique way the RM-CG microphone array mounts into a ceiling tile, to the single cable connections, the install process is straightforward for anyone with minimal technology experience."
"ADECIA offers a refreshing answer to these increasingly familiar challenges. From streamlining the installation process, to reducing the skillset needed to deploy, this system was designed to help businesses and integrators deliver a reliable, professional-grade audio experience."
"ADECIA addresses the age-old challenge of poor in-room audio quality for integrators, administrators, and users alike."
Yamaha's ADECIA ceiling solution is an innovative family of communication products designed to work seamlessly together to provide a complete and customizable audio solution for any meeting or learning space. It includes the brand-new multibeamforming RM-CG ceiling microphone or RM-TT tabletop microphones and RM-CR audio processor, as well as Yamaha's long-trusted PoE switches and VXL Series line array speakers. Yamaha's ADECIA ceiling solution clearly picks up several people speaking at the same time and ensures that voices, not noises, are captured in enclosed or open conference spaces of varying sizes. Its multibeam and audio postprocessing technology creates virtual personal microphones that follow speakers moving around the meeting area. The narrow beams and audio postprocessing focus on voices rather than sounds for incredible clarity.
The complete solution immediately detects all components of the system and configures them to be optimized for the room environment, accounting for the location of speakers and microphones, reverberation, and echo behavior. Setting up a room is done through the system's configurator in four effortless steps. With USB, Bluetooth®, Dante, and analog connections, this flexible system can fit a variety of meeting spaces.
See Wainhouse Research's "A First Look at the Yamaha ADECIA Solution" video and written reviews.

Founded in 1999, Wainhouse is a research and analyst firm with the largest set of full-time analysts and researchers focused on Unified Communications & Collaboration (UC&C) technology, services, and markets.
Proč řešení Yamaha ADECIA dokáže vyřešit výzvy, s nimiž se potýkají IT pracovníci při integraci audio systému do komunikačního systému organizace.