Remote conferencing systems are essential for the new normal conference rooms
Remote conferencing systems are essential for the new normal conference rooms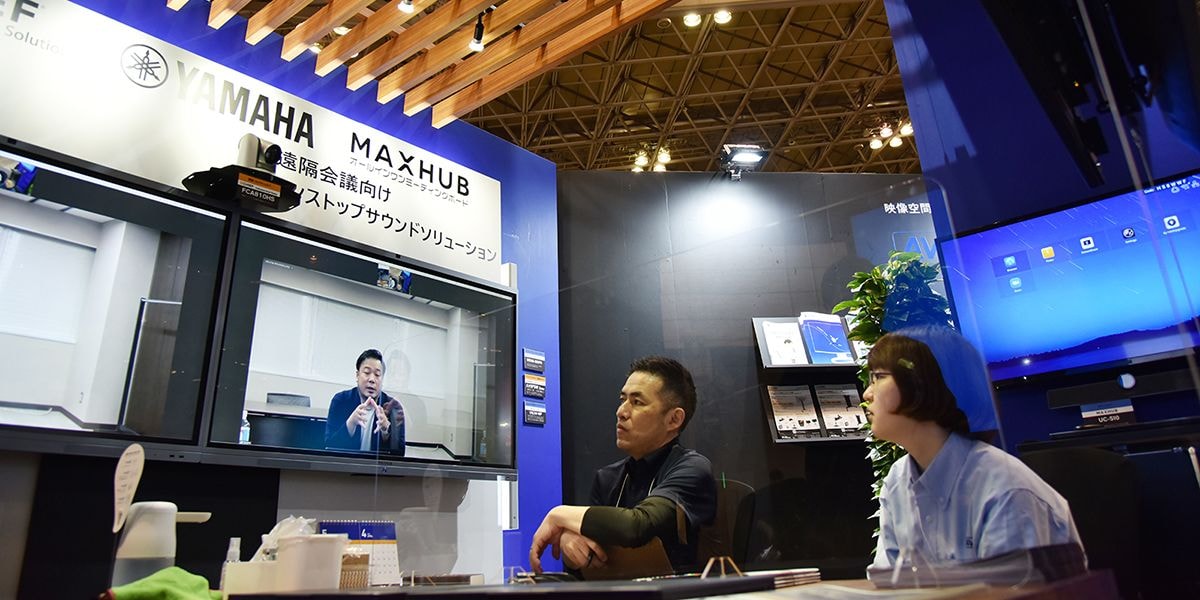 Audio Video Communications Ltd. is an audiovisual communications company providing total support for video space creation, offering rentals and sales of audio and video equipment to businesses, government agencies and schools. At "Digital Signage Japan 2021" held during April14~16 at Makuhari Messe, Audio Video Communications Ltd had set up their booth featuring Yamaha's "ADECIA", an all-in-one sound-solution for remote conferencing. We asked why they have featured ADECIA and also asked the current trends in the remote conferencing market.*
"ADECIA" is a solution composed of a PoE-compatible L2 switch "SWR2311P-10G" and Dante/PoE-compatible line array speaker "VXL1-16P" built around a ceiling array microphone "RM-CG" and a remote conferencing processor "RM-CR" acting as an acoustic system with all the equipment required for remote conferencing.
Thank you for exhibiting and demonstrating ADECIA at your booth at Digital Signage Japan 2021. Let's first start by introducing your company.
Ms. Izumita: Our company proposes building and introduction of systems for video and acoustic equipment relating to offices and education to meet the needs of our clients. Recently, the need for remote conferencing has increased dramatically because of the effects of the coronavirus. There are more opportunities for us to propose systems that respond to the demand for remote conferencing on ZOOM, Webex, Teams, and the like over the Internet.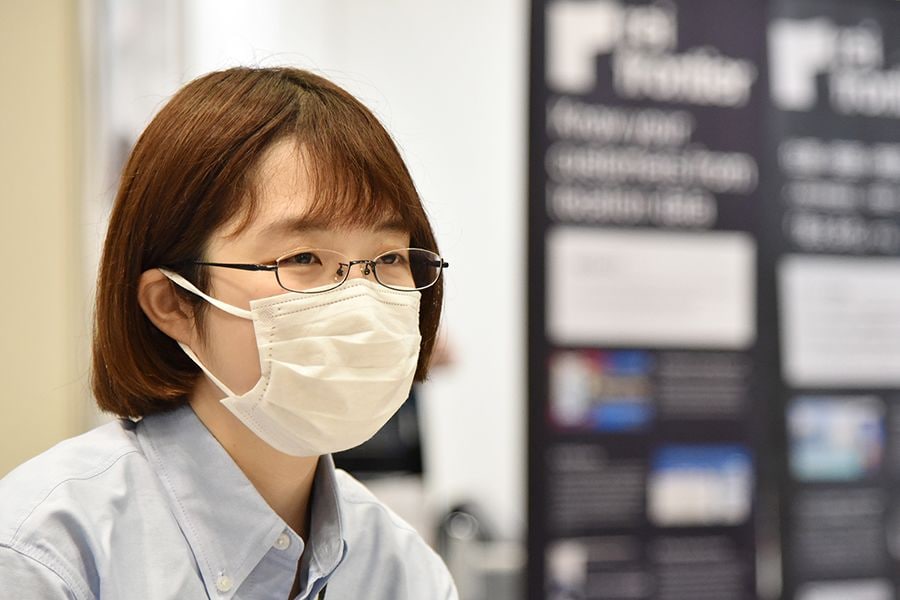 The coronavirus has led to an increase in teleconferencing. However, how is this different from previous conference systems?
Ms. Izumita: Until now, there have been many systems that use a videoconferencing codec, that is, dedicated videoconferencing machines. Because they are a type of system for which dedicated lines were required between remote conference rooms, they can be quite costly.
Mr. Isozaki: Before we were faced with the coronavirus, home and telework were not yet common, so most people had not really considered participating in meetings from home or a remote office. However, because of the coronavirus, situations requiring teleworking and working from home increased rapidly. For that reason, there was an increase in meetings using smartphones and home computers. Suddenly, there was a demand for teleconferencing systems that responded to that.
The very concept of conference rooms may be changing as a result of the coronavirus.
Mr. Isozaki: Yes, I tend to think so. When creating a new conference room now, there is no conference room that is assumed that it will not be used for teleconferencing. I think remote conferencing systems are essential for conference rooms in this era we are beginning to call the new normal.
Ms. Izumita: These days, we always hear questions like whether a customer can use ZOOM in our proposals for meeting room, whether they can use Webex, or whether they can share screens. Next, customers are concerned about the performance of the microphones and speakers. More and more people are concerned about the quality of audio while teleconferencing.
Video center booth at Digital Signage Japan 2021
A remote conferencing systems using ADECIA was demonstrated at the video center booth
Is audio important while teleconferencing?
Ms. Izumita: Of course, video is also important, but a lot of people have experienced teleconferencing now that the coronavirus is so prevalent. We have found that the thing that is most important to people is the audio.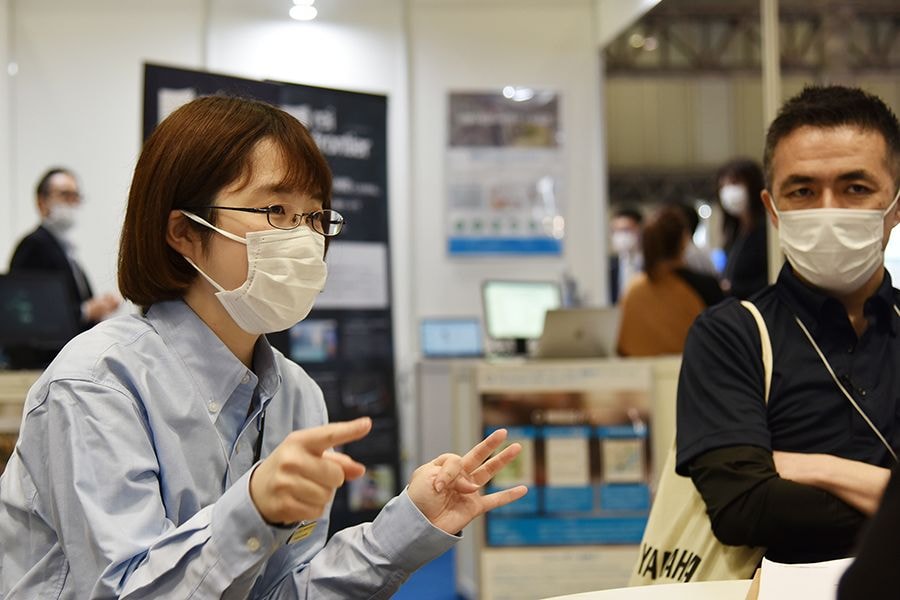 Mr. Isozaki: Recently, web conferencing apps have evolved to make video calls easier. Even if the video stops, you can continue the meeting if you can continue to hear the audio. But if you can't hear the audio, the meeting will stop. For that reason, the most important thing that customers say with regard to teleconferencing systems is the audio. Good audio is a very strong requirement.
ADECIA's attraction is one-stop with equipment from the audio entrance to its exit
You installed and demonstrated ADECIA at your company's booth. Can you explain why you decided to choose ADECIA?
Ms. Izumita: We have always used Yamaha equipment including amplifiers, mixers, and speakers and the like. And this time, we also used the ceiling microphone for the input, so we chose to be able to propose from input to output as a one-stop system called "ADECIA." It is easy to recommend this to customers as an entire package. And even with this, it is helpful because we can unify our contacts.
Mr. Isozaki: Originally, Yamaha has been recognized with unified communication speakers for conferences, such as the YVC Series. ADECIA contains all the essence of that conferencing system, so it is highly reliable.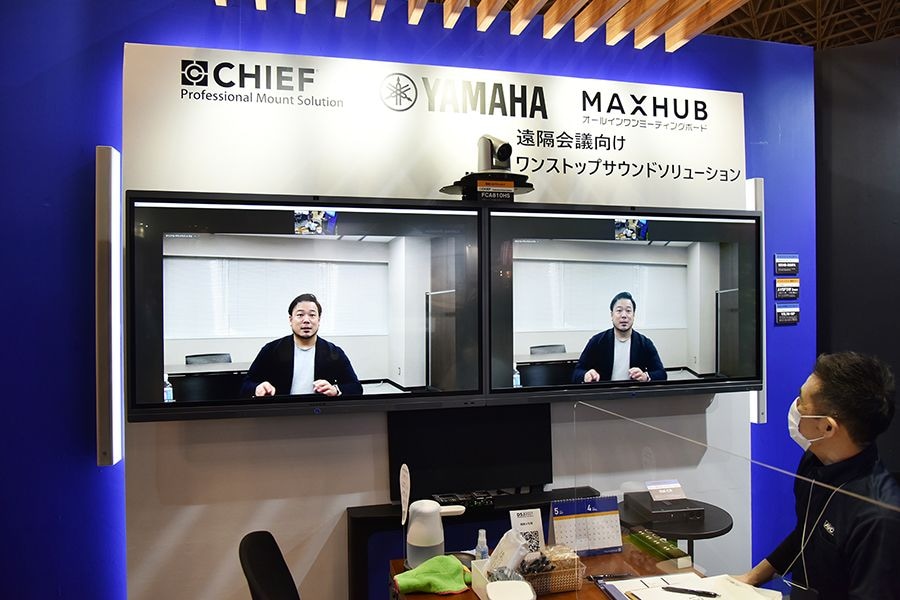 Specifically, can you describe the ceiling microphone "RM-CG" for us?
Ms. Izumita: Firstly, I think it is good to be able to concentrate on the conversation without being aware of the microphone. In terms of installation, microphones often used in conference rooms have mainly been gooseneck-type microphones. However, with this, it is necessary to dispose a microphone that a number of people can use. The use of a hand-microphone is also frowned upon from the point of view of preventing spreading the infection of the coronavirus. In that regard, one ADECIA ceiling microphone covers multiple people. It offers hands-free teleconferencing conversations.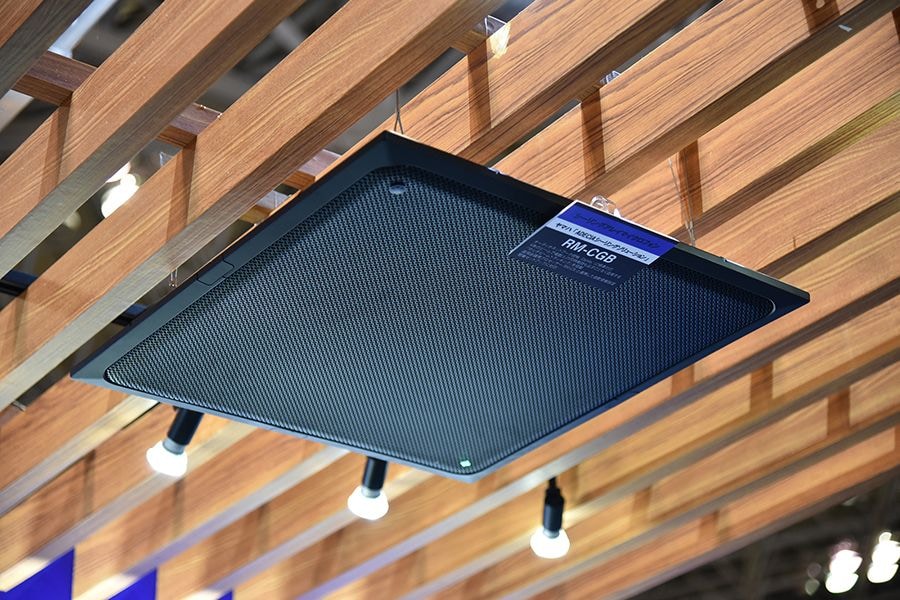 I think you have probably used a variety of microphones over the years. Can you tell us more about the sound of ADECIA?
Ms. Izumita: It is very good. It automatically tracks the speaker and captures individual remarks even if they are spoken by multiple people. The demonstration environment is located where there is a lot of extraneous noise because we are at an exhibition. Nevertheless, clear audio was delivered to the remote location even when we spoke a low voice, so I thought that its sound collection and its built-in processing performance were also good. When in a remote conference, people often tend to speak loudly because they are unconscious that you have to speak toward the microphone. However, with ADECIA, you can also talk as though you are in the same space as the other person even in a remote conference.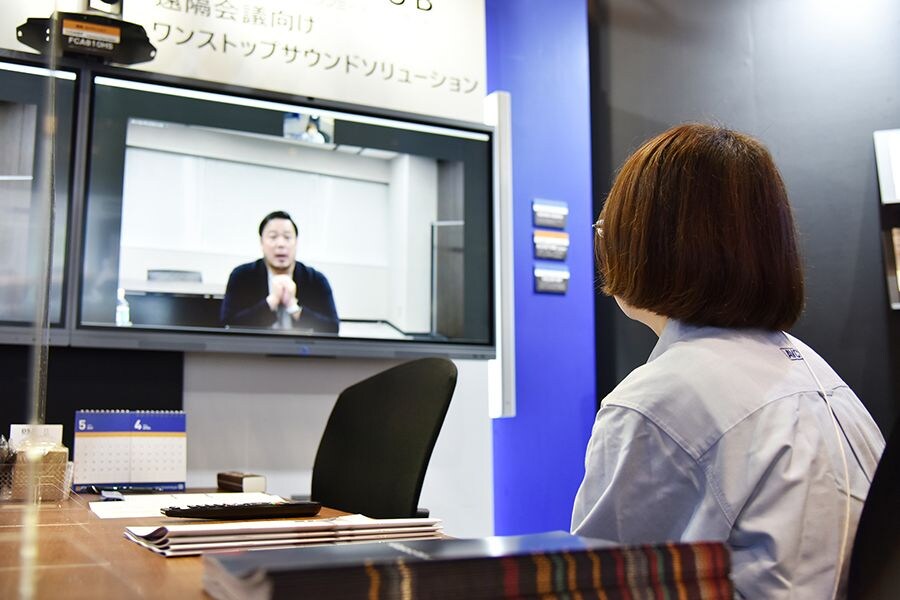 Network installation, wiring freedom and ease are also attractive points
Does the entire system offer the benefit of being networked?
Ms. Izumita: Yes, very much so, I think. When updating an existing conference room, it would take a lot of effort to install a remote conferencing system. We have to install wiring and also with a power supply. However, with ADECIA, all the wiring, including audio, is completed by connected it with a LAN cable and turn on the L2 switch "SWR2311P-10G." The remote conferencing processor "RM-CR" and line array speaker "VXL1-16P" are Dante/PoE-compatible. For that reason, there is no need to provide an amplifier or power supply for that.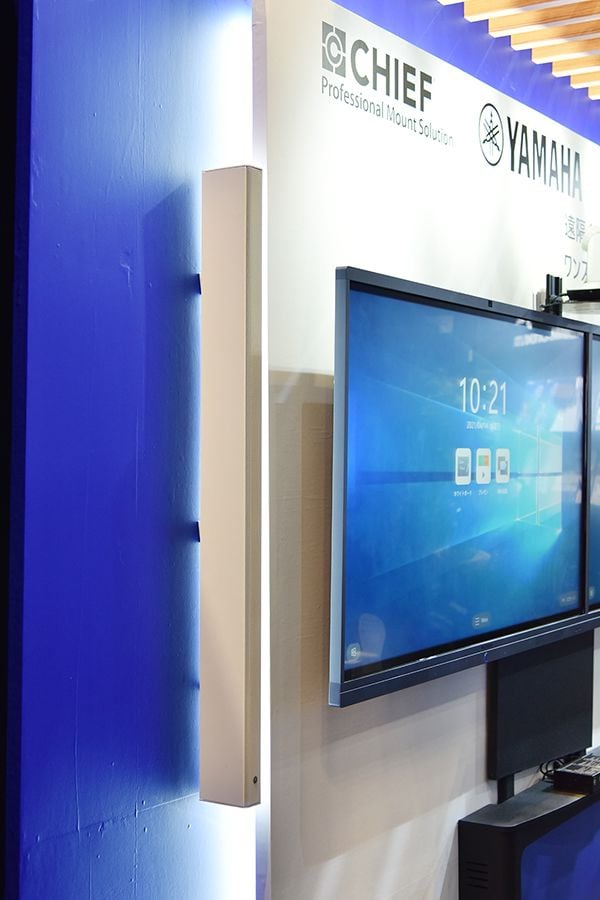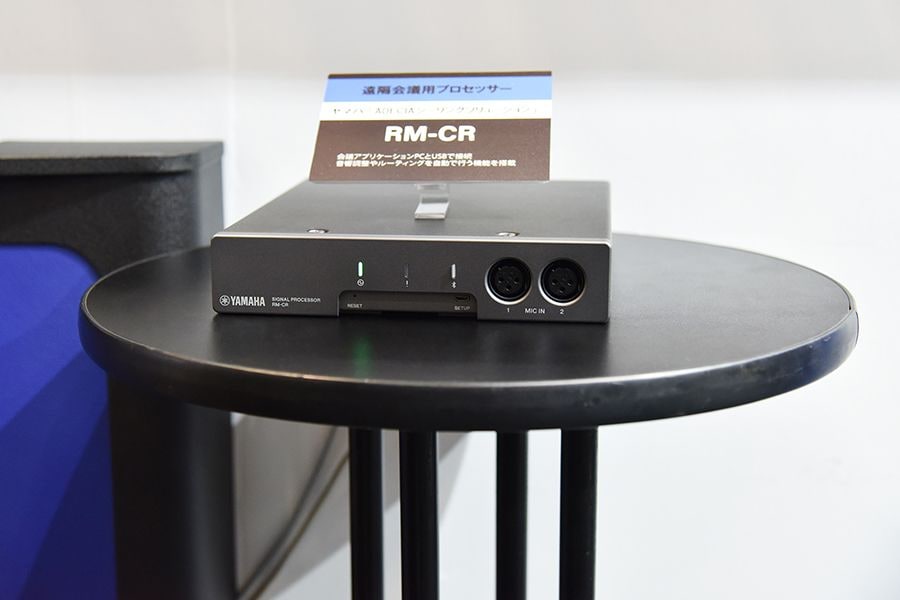 Conference rooms with high-performance microphones and high-quality speakers for remote conferencing are becoming commonplace.
Ms. Izumita: Yes, I tend to think so. Until now, needs have changed too rapidly because of the coronavirus, so we have looked at a wide variety of things at hand. However, we finally determined what needs there are and what systems are required.
Mr. Isozaki: Even the word ZOOM became common last year. What I found here is that high-sound quality, ease-of-use, and a sense of quality are essential. I don't think you can choose without them. In the future, high-quality teleconferencing systems such as ADECIA will be required. In anticipation of this, we decided to exhibit and demonstrate ADECIA.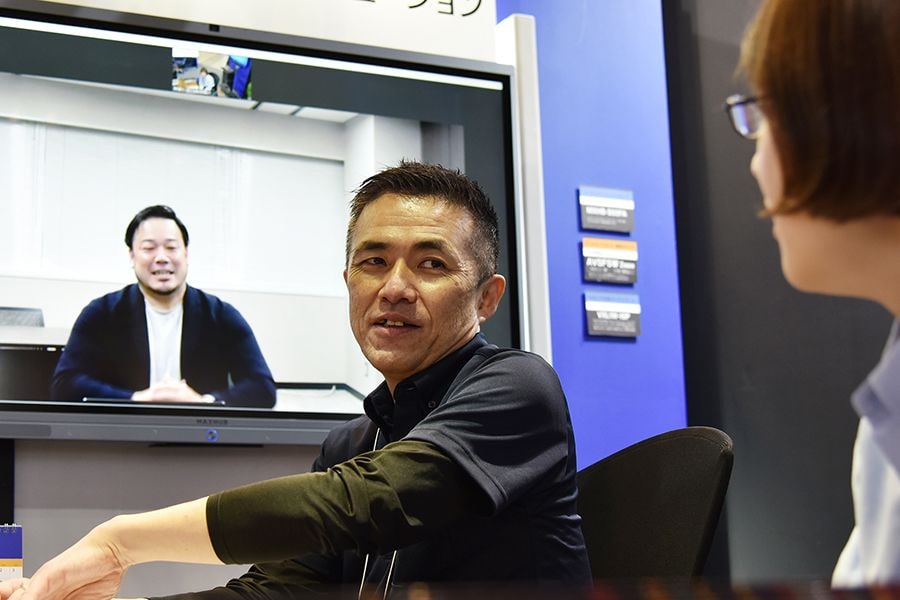 Thank you very much for taking the time to speak to us during your busy schedule today.
Audio Visual Communications Ltd.
Remote conferencing systems are essential for the new normal conference rooms