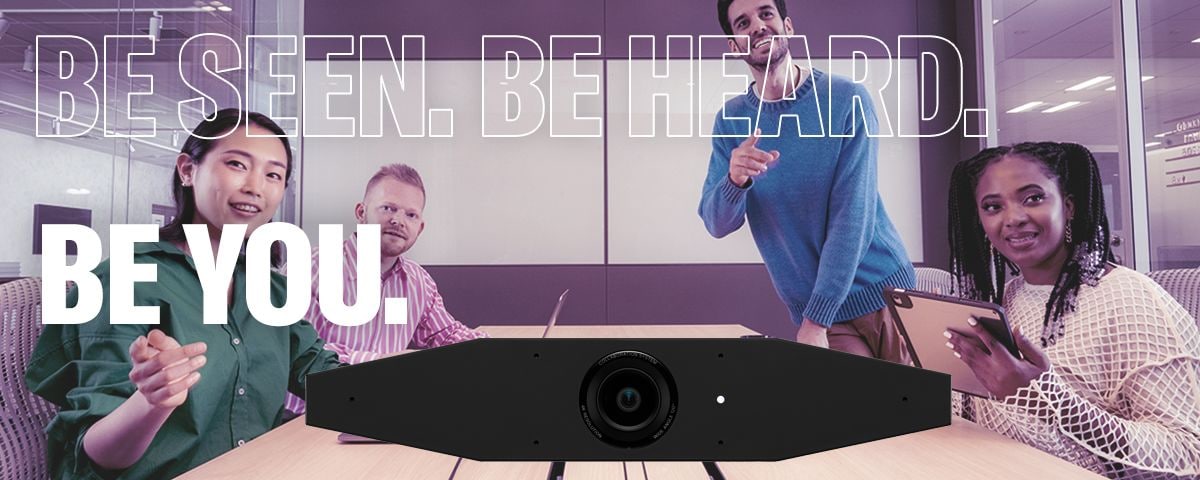 CS-500
Video Collaboration System for Huddle Spaces
The Latest in Participant Positioning Technology
Using the positioning data provided from BOTH the voice and camera pickup, Yamaha's new SoundCap Eye™ technology pinpoints participant locations to deliver a seamless and immersive tracking experience unlike any other.
4K camera tracks participation physical locations while the Hexa-Microphone tracks audio source locations to deliver an accurate facial position for a dual, harmonized pickup. By narrowing in on only voices within the camera frame, the technology can better determine participation location and block out unwanted background noise in potentially noisy environments like open workspaces.
SoundCap Eye™ is created by unifying three Yamaha's unique technologies: Face Focus Beamforming, Self-Silence and Self-Volume Balancer.
Face Focus Beamforming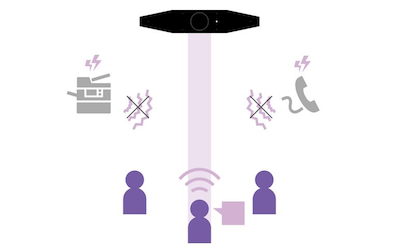 Face Focus Beamforming
Problem: Open workspaces can be noisy with sounds from colleague chatter, office equipment and nearby meetings. When having remote conference sessions, your conversation can be disrupted by these noises and far-end participants will have difficulty hearing you clearly.
Solution: Face Focus Beamforming picks up your conversations while reducing the distracting noise around you. The CS-800 & CS-500 have built-in 4K camera which tracks the faces of participants analyzed by AI. The CS-800 & CS-500 also have Hexa-Microphone, together with 4K camera, it allows participants to designate up to 3.0m[9.8 ft] as Face Focus Beamforming coverage area in order to acknowledge the sound from your voice verse unwanted background noise. By harmonizing camera and audio up-to-date technology, far-end participants can hear you loud and clear enabling better collaboration.
Self-Silence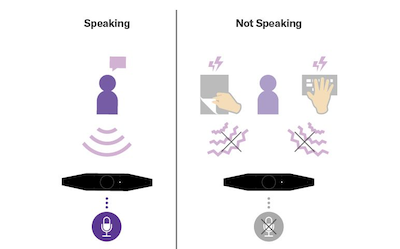 Self-Silence
Problem: Even within the virtual walls of a conversation in an open workspace, there can be various surrounding noises that can be picked up. Whether it be the ringing of a phone, computer typing or shuffling of papers, sudden noises can be distracting especially to far-end participants.
Solution: The CS-800 & CS-500 include a self-silence function that automatically mutes the microphone when the conference participant is not speaking. By using Yamaha's Human Voice Activity Detection (HVAD) technology, the CS-800 & CS-500 can detect human voice from other sounds in an instant. Participants can rely on a smooth conversation without unnecessary sound whether they are speaking or not.
Self-Volume Balancer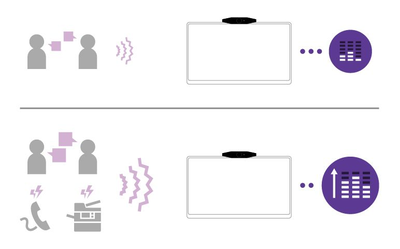 Self-Volume Balancer
Problem: When using the video sound bars in open workspaces, speaker output can sometimes be too quiet or too loud when ambient background noise changes, causing missed information or an inconvenience to the surrounding workers. In some cases, there is also a risk of private information being heard.
Solution: With the self-volume balancer function, the CS-800 & CS-500 automatically adjust the volume according to the ambient noise to keep an appropriate speaker volume level (speaker of the CS-800 or monitor speaker) at all times. Participants can conduct remote conferences in open spaces without failing to hear conversation, disturbing their surroundings and keeping meeting contents private.
Smart Framing
The facial-focus beamforming function recognizes people in the room who are speaking and automatically frames the video signal for remote participants.
Smart Framing supports 3 modes:
- Group: Frame all participant
- Speaker: Frame main speaker
- Individual: Frame specified person user selects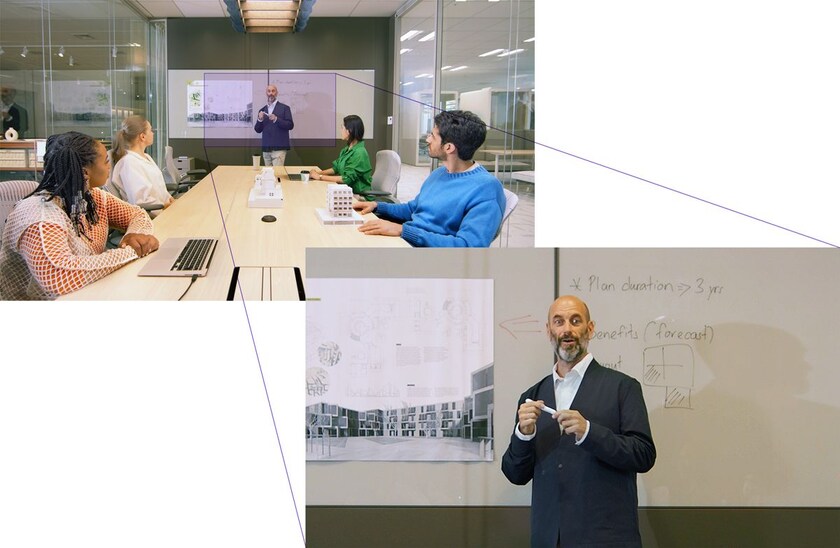 Easy Launch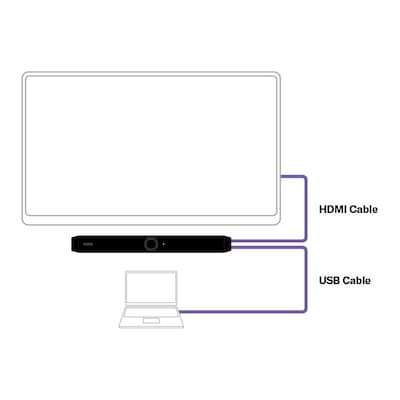 Easy Launch
Automatic display launch with easy-to-follow instructions allow for a quick jump into collaboration sessions. Video / audio / screen sharing starts with one action and is easy and simple to connect with a single USB cable.
CS-500 recognizes users entering the room and can automatically wake up the display via HDMI-CEC.
CS-500 display a guide on the room display explaining how to use the room technology and start a meeting.
All functionalities: audio, camera and display (DisplayLink) will be connected to user's laptop with just ONE USB connection.*
*The DisplayLink driver installation may be required in advance, depending on the PC.
Dual Remote Interface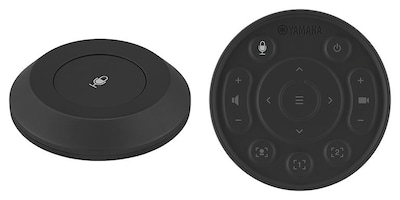 Dual Remote Interface
This dual design allows for both a singular microphone muting option as well as an advanced interface inclusive of:
・ Volume up/down
・ Manual Camera framing
・ Manual Camera Zoom in/out
・ Smart Frame Mode Selection
・ On/off button
・ Mic mute
Multiple Installation Options
With a variety of mounting options available, the CS-500 makes any space ready for remote collaboration.
[TV Mount] Placed on top of display (up to 50 mm thick): Stand
[Tripod Mount] Mounted on tripod: Tripod thread
[Wall Mount] Mounted on wall: BRK-WL1 (sold separately)
[TV Mount (Rigid)] Mounted above display (rigid): BRK-WL1 and BRK-TV1 (sold separately), Mounted below display: BRK-WL1 and BRK-TV1 (sold separately)
* Supported display size: (for display above) 48-60 inches, (for display below) 48-70 inches
CS Series Display Size General Guideline
Multi-platform compatibility
Seamless connectivity with all popular remote-conferencing software and supports Windows, macOS, iOS, and Android.