Biography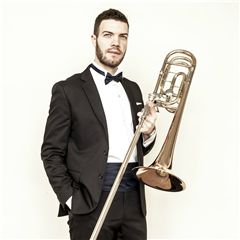 Stefano Belotti begins his studies in 2004 with M° Guido Delmonte at the Conservatory "Luca Marenzio" in Brescia graduating with full marks and honors in 2009.
Along with his conservatory studies he attends courses with Charles Vernon, Joseph Alessi, Roger Bobo, Michel Becquet, Vincent Lepape, Thomas Leyendecker, but it's thanks to the teachings of the Maestros Diego Gatti, Laurent Fouqueray, Giuseppe Grandi and Stefan Schulz that he developes his personality and technique on the Bass Trombone.
Driven by a strong impulse towards the world of chamber and solo music, he founds, in 2007, the Mascoulisse Quartet with whom he has performed in over 450 concerts in Italy, Europe, USA, and China, winning numerous international chamber music awards and regularly holding masterclasses and seminars at conservatories and cultural institutions.
In 2016 he debuts, at the Teatro Sociale of Sondrio and at the "Verdi Sala" in Milan, "Trissirt" for Trombone Quartet and Orchestra composed by Piergiorgio Ratti. In 2017 he performs, for the first time in Italy, the "Double Concerto for Bass Trombone and Clarinet" by composer Sonja Grossner, accompanied by the Orchestra"I Solisti Veneti" directed by M ° Claudio Scimone.
A Fantasia, a concert for Trombone and Orchestra and various Sonatas have been dedicated to him.
He's received numerous qualifications in national and international orchestras which enabled him to successfully collaborate with important theaters such as: the Italian Youth Orchestra, Venice Grand Theater Orchestra, Haydn Orchestra of Bolzano, Orchestra of the Teatro Regio in Turin, and the Solisti Veneti. However, it's with the orchestra of the Carlo Felice Theater in Genoa that he decides to share his professional life with.
In 2011, driven by the need to give young students and professionals the opportunity to get to know the great names of the international scene and to allow the public to discover the trombone's solo and chamber music potential, he founds the Masterbrass Festival. Along with the Mascoulisse Quartet, he shares the stage with great artists like Christian Lindberg, Stefan Schulz, Michel Becquet, Vincent Lepape, David Bruchez and many more.
Most of his records, including the three Masterbrass live recordings, three discs with the Mascoulisse Quartet and a DVD dedicated to the wonderful Convent of the Annunciation of Rovato (Bs) are published by the record company Aldebaran Editions.
Born in Palazzolo sull'Oglio in 1985, Stefano Belotti is very close to his homeland and, in 2011, was awarded the prestigious certificate of merit by the city council (Benemeranza Civica Cittadina).