Biography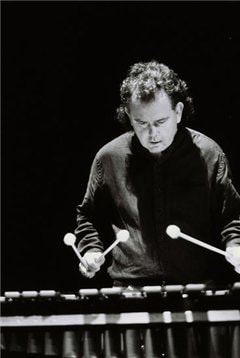 After his classical percussion studies Bart (born 2 June 1961, Anderlecht, Belgium) studied marimba with Robert Van Sice and followed master classes with Keiko Abe, Gordon Stout, Steven Schick ... He studied jazz with Belgian guitarist Peter Hertmans, composition with pianist Diederik Wissels and followed clinics by John Abercrombie, Mike Mainieri, Peter Erskine, Bob Malach, Kenny Werner, George Garzone...
Bart was invited by more than 60 orchestras and ensembles. His experience contains ancient, symphonic, opera, contemporary, chamber music, jazz, pop, variety, percussion ensembles, radio and TV and played on festivals like Internationale Muziekfestwoche Luzern, Baden Baden, Festival van Vlaanderen, Ars Musica, Tromp Muziek Biënnale... Together with Gert François, Jan Michiels and Inge Spinette, Bart realized the first Belgium recording of the Béla Bartók's Sonata for Two Pianos and Two Percussion.
Bart had the privilege to play with jazz legend Mike Mainieri on the 30th anniversary of Brosella Jazz 2006. Through international projects of Belgian percussionist Frank Michiels, Bart had the honor to play with Doudou N'Diaye Rose on sabar, Madjid Khaladj on tombak and Trilok Gurtu on tabla. Bart felt fortunate to play with the greatest Belgian jazz players in bands like Dreamtime, Jambangle, Brussels Jazz Orchestra at festivals like North Sea Jazz Festival, Festival de Marseille, Audi Jazz, Ruhr Triënnale, Brosella Jazz, Motives for Jazz, Jazz à Mons...
Besides his performing schedule he teaches mallets (classical and jazz) at the Royal Conservatory of Brussels. As a clinician he was invited in conservatories of Amsterdam, Paris, Seoul, and Tokyo... During summer camps Bart was very pleased to play with friends like Franck Tortiller, Jean Geoffroy, Emmanuel Séjourné, Gordon Stout, Dave Samuels, Mike Mainieri...
His books 'Image' 20 Children's Songs for Marimba (Meredith 1992- Hal Leonard 2000) and 'Profils' 24 essays pour vibraphone et piano (Lemoine Paris 2000) are distributed all over the world. His third book 'Encore' 5 'bis' for mallets (Alfonce Production 2001) is distributed by the late Claude Giot who was the artistic director of the 'Forum International de Percussions' where Bart was invited five times. Great artists like Robert Van Sice, Gordon Stout and Daniel Goyone introduced all his books. Bart was invited as a member of the jury of the 3rd World Vibe International Competition Claude Giot 2005.
Currently Bart plays in Kris Defoort's 'Dreamtime' with projects like Conversations / Conservations and the 'The Woman who walked into doors', an opera which toured extensively through Europe the last few years.
Bart leads his own quintet with trumpet player Nico Schepers and saxophone player Bart Defoort, both members of the superb Brussels Jazz Orchestra, Jean-Louis Rassinfosse - who played ten years with Chet Baker - on double bass and Jan De Haas on drums. The debut album 'Thank You' is released by De Werf, a leading Belgium Jazz Label.
On the same label, his second album as a leader is called 'Profiles' 24 Essays for Vibraphone and Piano with amazing piano player Bart Van Caenegem.
Bart was laureate of the Sabam Contest for Composition for Jazz-themes 2000 and 2002. As sideman he recorded over 60 CD's and toured Europe, USA, Korea and Japan.
(Photo credit: www.jantieghem.be)