Biography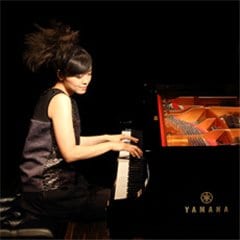 Hiromi, a pianist and composer, was born in Shizuoka, Japan, in 1979. At the age of 6, she started playing the piano and became a student of the Yamaha Music School to learn composing. In 1999, Hiromi went to the United States to study at the Berklee College of Music in Boston. In 2003, she made her worldwide debut, releasing her first album on the Telarc label titled "Another Mind" produced by Ahmad Jamal and Richard Evans. In 2007, she performed with legendary pianist and mentor Chick Corea in Tokyo. This live performance recorded on Chick's double album "Duet" was released in 2009 and attracted attention among music fans.
Hiromi also collaborated with bassist Stanley Clarke for the album "Jazz in the Garden" by the Stanley Clarke Trio, featuring her and drummer Lenny White. In 2011, Hiromi was featured with The Stanley Clarke Band. The band's album of the same name won the 53rd Grammy Award in the Best Contemporary Jazz Album category. In 2011, she released the album "Voice", assembling a trio that included herself and veteran players contra-bass guitarist Anthony Jackson and drummer Simon Phillips. In 2013, Hiromi released the latest album "MOVE" under the same trio project as "Voice". The album also has an overriding theme, which she describes as "time in one day," explaining, "You wake up and go to work and then hang out. The album is like a soundtrack for a day."
Q1. Which artists have influenced you the most?
There are so many… Just off the top of my head I can mention; Frank Zappa, Errol Garner, Martha Argerich, Vladimir Horowitz, Jeff Beck, maybe even King Crimson? The list could go on and on…
Q2. What are your impressions of Yamaha pianos?
I think you must remember the piano is a melodic instrument but also very much a percussion instrument as well. So in addition to lyrical phrases, rhythms have a very important role in my music, and in solo concerts I am also my own drummer as well.
I find it easiest to create my own voice, while keeping the right groove going, on a Yamaha. The sound is bright and clear which lets me create my own tonal colors. And this is very important to me.
I listen to many great pianists and practice hard every day so I can continue to increase my palette of tones. And with the Yamaha I can sound either crystal clear, or else wrap the sound in a cloak of warm overtones. It is important for me to have a piano that lets me do this and nothing does it as well as a good Yamaha. This is the biggest reason I play Yamaha.
The work of the technician is also important. The piano must be well maintained and voiced by an expert; though unfortunately this isn't always the case all around the world.
But if the piano is a good instrument which has been well taken care of I feel completely free to create my music. I really love making friends with great pianos… My music depends on them!
Q3. What does music, or the piano, mean to you?
It is my first love and love of my life. The more I learn about the piano, I find more things that I don't know, it is never-ending exploration.
This is really interesting for me. And each piano has its own personality. I get to meet so many of them on my tours.
A piano that's been well cared for has a happy balance personality, but one that's been mistreated is sad and lonely. So each time I arrive at the hall I sit down and get to know the piano. I play it from my heart until we are both communicating well, and are ready to perform for the audiences.
I honestly feel I become buddies with the piano. After a tour I remember each of my new piano friends so well.
Sometimes at an open-air concert the piano can be in bad condition. It seems sad and even hurts me. But I'll sit down with it and spend an hour or two doing my best to bring out from it the beautiful sounds I know are inside.
Q4. Which are your favorite performance venues?
I have wonderful memories from the many different places I perform, and the many different types of concerts.
For example, there are nice intimate clubs, like the BlueNote in New York, where I have such close communication with the audience. But I also love the opposite, the huge outdoor festivals, such as Glastonbury and Fuji Rock festival, with their wide stages and massive audiences. In the clubs I can communicate with individuals, while at the festivals it is more like communicating with the crowd and energy.
Q5. Do you have a message for people learning the piano?
The more you play, the more you get. If you approach playing the piano with affection, it will return to you. Really speak to it as some people speak to their plants. I think rather than saying someone has become a better player, I prefer saying they have developed a better relationship with their instrument. When I am playing well, I lose awareness of any boundaries between myself and the piano. I don't know where I end and the piano begins.
When I think I am sounding especially good I feel like thanking the piano for its generosity. I can't make music all by myself. It is all thanks to my interaction with such a lovely instrument. Don't you think so?